Upcoming Restocks + Scent Lists
---
Wednesday June 28 at 6:00 pm we will have a ready-to-ship restock! Extras from the previous pre-order will be available as well as odd weight wax (whoa wax).   The...
Wax Facts
Wax Blend: Our custom blended coconut paraffin wax
Cure Time: 2 weeks.  If it smells strong on cold, you can start melting, though we have found that more subtle beautiful notes come out after 2 weeks to 1 month of curing
How To Remove Wax From Wax Warmer: Place your wax plate into the freezer for about 5 minutes.  The wax will harden and shrink.  Use a flat edge to pop the old wax out.  Now your plate is ready for fresh wax!
What Kind Wax Warmers To Use: Our wax works with glade warmers, bulb warmers, tea light warmers, and electric plate warmers.  Our favorite kind of warmer to use is the electric plate warmer. 
How Much Wax To Use: For a medium sized warmer, use 0.6 oz to 1 oz size chunk in your wax plate.  It's about a 1 inch size cube.  It is enough to fill a whole room with scent.  Some blends are stronger than others based on notes so experiment with room placement, drafts, and temperature to find the best place to put your warmer and the size of wax.  Also, the hotter the warmer, the stronger the throw!
For 1.6 oz Scent Cups: can be split into 2-3 melts
For 3.2 oz Alchemy Pots: can be split into 6 melts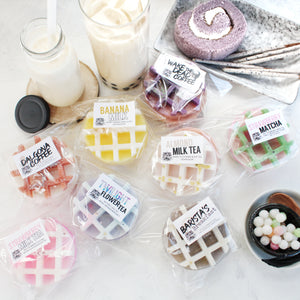 ORDER INFORMATION
We load this site with new ready-to-ship goodies frequent times throughout the month, usually at the beginning of the month.  Middle of the month we tend to offer a "Pre-Order" where you can purchase as much wax as you want without fear of supplies running out.  Turnaround time is usually 4 weeks from the close of the Pre-Order (unless otherwise posted in the Pre-Order listing).  Scent Menu information is usually listed in our Facebook group and sometimes in our Instagram.  If you are interested in this month's offerings, please join our group and follow us on Instagram